The Holmes family is synonymous with Rotorua business and is proud to have contributed significantly to the local community for over 60 years.

Holmes Group has emerged from a strong and successful manufacturing and business background.  Holmes Packaging, the family business, was a supplier of high tech value added products and systems to the international dairy industry.  The business grew from relatively small beginnings into a highly successful multinational operation with worldwide exports and offices in Australia, America and Argentina.  In 2000 the business was acquired by global North American food packaging company, Cryovac.  Holmes Group retained ownership of the land and buildings and in 2013 was successful in gaining resource consent to develop Lynmore Junction which will include New Zealand's largest all-weather entertainment centre, Motion Entertainment.  Refer 'Current Projects'.

In 2003 the Holmes family formed a joint venture to establish Eastgate Developments Ltd, a land development company based in Rotorua.  As project managers and joint venture partners we developed Eastgate Business Park, Lynmore Lake Vista Estate and Pukehangi Parkland Estates, all Rotorua developments.

In 2008 we made a commitment to focus solely on our own family investments.  The Holmes family withdrew from Eastgate Developments and Holmes Group was formed, comprising a variety of trusts and investment companies.

Ryan Holmes – Director and Managing Director

After completing his degree at Waikato University, Ryan travelled and worked through the USA and Canada before taking a position as human resources/quality process manager for an Australian dairy factory.  Ryan returned to New Zealand in 2003 and became Project Manager for Eastgate Developments Limited.  This was a diverse role ranging from property search, conceptualisation, feasibility and planning to iwi and public consultation and project management.  The experience and knowledge Ryan gained over the next 5 years have been invaluable to him in his current role as Managing Director of Holmes Group.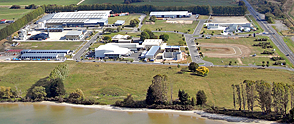 Completed Projects
Eastgate Business Park, Rotorua
Lake Vista Estate, Rotorua
Parkland Estates, Rotorua
Golf Links Estate, Titirangi, Waitakere
Hawthorn Estates, Queenstown
Stafford Rise, Lynmore Lake Vista Estate, Rotorua